---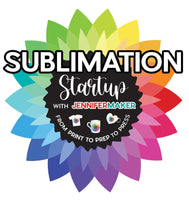 Sublimation Startup: Get Setup for Success in Sublimation with JenniferMaker
Sublimation crafting is the latest trend and a wonderful way to add full-color designs to many of your crafts! You can make professional-level items for your home, your family, your friends... or even to sell!
If you're new to sublimation, this mini-course is perfect for learning fundamental techniques and skills. You do NOT need a sublimation printer before you begin, as we will go over everything — from printers to ink to paper to presses to blanks — together to help you make the best decisions on what YOU need.
And if you already have a sublimation printer, you'll get to challenge yourself and continue building your skills by learning about other printers, tools, techniques, and tips. 
In this mini course, you'll learn: 
What printers you can use for sublimation, from purpose-built printers to converted printers

Different types of inks for sublimation

Why your paper matters and the best paper to use!

How to get your sublimation prints to transfer successfully with the right heat and pressure

Dozens of different blanks, including some really cool and unusual things you never would have thought you could sublimate!

How to troubleshoot common sublimation mishaps, like lines in prints, faded images, and edge lines on fabrics!

How to try out the full sublimation process for under $55 (or less!)

PLUS ... how to design a personalized sublimation journal and size it to fit YOUR journal or notebook or or other sublimation materials ... there are many ways to make this project!
Included in this mini course is:
Three in-depth class videos with step-by-step instructions that can be watched anytime, even downloaded to watch offline!

An invitation to the live airing of the classes with Jennifer on May 20, 21, and 22 and 2 pm ET where afterward she answer all of your questions.

Access to the recordings of the Q&A sessions so you can watch it anytime, anywhere!

Free designs, printer profiles, and sublimation resource lists!

Expert support with Jennifer and her team - do you have questions? Because we have answers!
IMPORTANT: After purchasing this item, please email us at vip@jennifermaker.com to activate your course enrollment in our academy. Thank you!
All of the products in this bookshop are digital downloads only.
Not sure how to download? Below are some common download instructions:
Important: Most mobile devices such as phones and iPads, do not allow for downloading through a link. The exception is for iOS devices running iOS version 11 and higher (so you may want to upgrade before downloading).
ZIP Files: Some of my products are sent using a compressed ZIP file.
Here's how to unzip a ZIP file:
On a desktop or laptop: Save the ZIP file to your computer, right-click and select, "Extract All" (Windows) or double-click (Mac). This will create a new file on your computer in which you can open. If you need to get the files onto your mobile device, add the file to iCloud or Dropbox, or simply email it to yourself. Alternatively, you can check your order email on your mobile device and re-download it from my store. If you have issues with downloading, make sure you have a strong Internet connection and/or try using a different browser.
On a mobile device (phone or tablet): If you have an iPhone or iPad, upgrade to iOS 11 or higher if possible. If you this is not an option, you may need to get a free app to unzip it BEFORE you attempt to download it. This will allow you to unzip the folder to access it. Another solution available on some mobile devices is to long hold the zipped file icon and then click, "Extract." On iOS 11 and higher, you can click "Preview Contents" to view the items inside the ZIP file and then save them individually to your device.
All files are sent using PDF format. Virtually all computers these days have pre-installed Adobe Reader software on them. If your particular desktop, laptop, or mobile device does not have a PDF reader of some sort on it, you'll need one to view the items. Adobe Reader is the most common one and it's free. You can download it here.
Can't find your file? Most downloaded files automatically go to the Downloads folder on both Mac and PC. On the Mac, click on the Finder icon in your dock and click on Downloads to see what you've downloaded recently. On the PC, look under My Computer or search the title of the file on your computer for where it could be hiding.
Note: Some web browsers will load the PDF directly into the browser. You can make a copy of this PDF and save it somewhere that makes sense on your computer by clicking File > Save.
Printing Note: If you attempt to print my PDFs from an iPad, you may encounter an iPad bug that prints the pages without the images. If this happens, you need to print from another location (laptop or desktop computer) or email the PDF to a local office supply store (Staples, OfficeMax, Office Depot) for printing. This is a known iPad bug without a good workaround. I mention it now to save you from wasting ink and paper.
If you need more help, please contact hello@jennifermaker.com