---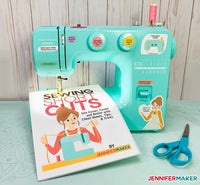 Sewing ShortCuts (Print Edition)
Get a special premium PRINT edition of the full-color Sewing ShortCuts guide.
Struggling with your Sewing Machine? Tired of looking up how to do things every time you want to sew a project? Can't remember how to thread your machine? Not sure how to finish that seam? Feeling clueless about which fabric and color to use in the first place? The Sewing ShortCuts digital e-book can help, with over 40 step-by-step diagrams and 50 worksheets and planner pages! Each of these "cheat sheets" show you exactly what to do for easy, fast results every time.
All About Sewing

How to Use Your Sewing Machine (One-Page Overview)

How to Setup Your Sewing Machine

How to Prepare to Sew

Sewing Machine Types
How to Find Your Sewing Machine Manual
Important Pages in My Sewing Machine Manual
Know Your Sewing Machine Parts
Sewing Machine Labels (like the ones on my machine!)
Know Your Sewing Tools
Know Your Sewing Supplies
Know Your Cutting Tools
Know Your Measuring Tools
Know Your Threads
Thread Tips & Tricks
Know Your Needle Parts & Color Codes
Know Your Fabrics (Is it Woven, Knit, Felt, or Coated?)
Fabric Names
Parts of Fabric
Common Sewing Terms
How to Thread a Sewing Machine (Four Types)
How to Thread a Sewing Machine (Upper Thread)
How to Wind & Insert a Bobbin (Lower Thread)
Know Your Bobbin Shapes & Styles
Basic Machine Stitches
Basic Stretch Stitches
Common Presser Feet
Common Seams and Edges
Common Material Types
How to Convert Sizes From Inches to Yards to Meters
How to Convert Yards and Get Enough Fabric
How to Clip, Notch & Grade Seams, Corners, and Curves

How to Combine Fabric Colors
Sewing Order From Darts to Buttonholes
How to Troubleshoot Your Machine

These special sewing worksheets, organizers, and planner pages are also included:
My Measurements

My Color Palettes 

My Primary Sewing Machine 

My Secondary Sewing Machine 

Pre-Sew Checklist 

My Favorite Brands 

My Favorite Web Sites 

My Pattern Files 

My Favorite Settings 

My Inspirations 

My Sewing Goals 

My Project Queue 

My Project Ideas 

My Project Information 

My Support Records 

Where Is It? 

My Tools Inventory 

My Supplies Inventory 

My Notions Inventory 

My Fabric Inventory 

My Swatches 

My Material Notes 

My Shopping List 

My Wish List 

My Sewing Planner 

Monthly Planners 

My Notes 
This print edition is a full-color premium color print on high-quality 80# paper with a heavier-weight 100# glossy cardstock front and back cover and a black plastic spiral coil binding. This is a professionally-printed and bound book!
This print edition is 100 pages and varies a bit from the digital edition. There is a copyright page added and the two pages about printing at home are removed completely (since you don't have to print it yourself) -- in their place are two pages for notes!
IMPORTANT NOTE: This is a print edition ONLY. It does not come with a digital edition, and that also means you will not get the free digital updates that come with the digital edition. If you want a digital edition, that must be purchased separately here.
DELIVERY TIME: This is a print-on-demand order and takes anywhere from 10-14 days to receive it in the U.S.

REFUND POLICY: No refunds are available on print editions due to the print-on-demand nature. If you do not receive your book, or it arrives damaged, please contact the print-on-demand company (Lulu) through their Contact page, who will assist you in getting your book delivered. Please also note that we are unable to track your package for you.

Please also note that we cannot refund your digital edition so that you can purchase the print edition. Nor can we apply or transfer the payment you already paid toward the digital edition toward the print edition. The digital edition and print edition are entirely separate from one another. The print edition is brokered through a third-party print-on-demand company that requires payment in full. Additionally, no discounts are available for the print edition. Thank you for understanding!
All of the products in this bookshop are digital downloads only.
Not sure how to download? Below are some common download instructions:
Important: Most mobile devices such as phones and iPads, do not allow for downloading through a link. The exception is for iOS devices running iOS version 11 and higher (so you may want to upgrade before downloading).
ZIP Files: Some of my products are sent using a compressed ZIP file.
Here's how to unzip a ZIP file:
On a desktop or laptop: Save the ZIP file to your computer, right-click and select, "Extract All" (Windows) or double-click (Mac). This will create a new file on your computer in which you can open. If you need to get the files onto your mobile device, add the file to iCloud or Dropbox, or simply email it to yourself. Alternatively, you can check your order email on your mobile device and re-download it from my store. If you have issues with downloading, make sure you have a strong Internet connection and/or try using a different browser.
On a mobile device (phone or tablet): If you have an iPhone or iPad, upgrade to iOS 11 or higher if possible. If you this is not an option, you may need to get a free app to unzip it BEFORE you attempt to download it. This will allow you to unzip the folder to access it. Another solution available on some mobile devices is to long hold the zipped file icon and then click, "Extract." On iOS 11 and higher, you can click "Preview Contents" to view the items inside the ZIP file and then save them individually to your device.
All files are sent using PDF format. Virtually all computers these days have pre-installed Adobe Reader software on them. If your particular desktop, laptop, or mobile device does not have a PDF reader of some sort on it, you'll need one to view the items. Adobe Reader is the most common one and it's free. You can download it here.
Can't find your file? Most downloaded files automatically go to the Downloads folder on both Mac and PC. On the Mac, click on the Finder icon in your dock and click on Downloads to see what you've downloaded recently. On the PC, look under My Computer or search the title of the file on your computer for where it could be hiding.
Note: Some web browsers will load the PDF directly into the browser. You can make a copy of this PDF and save it somewhere that makes sense on your computer by clicking File > Save.
Printing Note: If you attempt to print my PDFs from an iPad, you may encounter an iPad bug that prints the pages without the images. If this happens, you need to print from another location (laptop or desktop computer) or email the PDF to a local office supply store (Staples, OfficeMax, Office Depot) for printing. This is a known iPad bug without a good workaround. I mention it now to save you from wasting ink and paper.
If you need more help, please contact hello@jennifermaker.com