---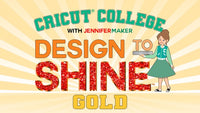 CRICUT COLLEGE: Design to Shine - Gold Tier
Enroll in the Gold Tier of DESIGN TO SHINE in CRICUT COLLEGE with JenniferMaker.
Learn how to do all the things in Cricut Design Space and make amazing things you can display, share, and sell!

Do you spend too much time spinning your wheels, trying to understand how to do things in Cricut Design Space? Do you have to compromise on what you want just to get something done? Or, worse yet, do you refuse to settle and never finish that project?
What if, instead, you could design and make whatever you wanted in Cricut Design Space, whenever you wanted?
Imagine how it will feel to finally make precisely what you envision, just the way you want, without compromise. Imagine having the know-how to impress everyone, even yourself, with what you can create. Imagine being connected to others who are on the same journey as you... all committed to making beautiful things that they can display, gift to others, and even sell.
Like you, I got my first Cricut cutting machine to help me make things easier. I fell in love with it and since then, I've been teaching crafters how to use Cricut Design Space for more than four years. And like you, I rely on Design Space to create things quickly and smoothly, so I can teach others how to make the hundreds of projects I've designed. I know all the tools and tricks to make Cricut Design Space sing for me whenever and wherever, enabling me to reach millions of viewers every week on my channel, blog, and academy. My ability to use Cricut Design Space easily and quickly has opened every door (and window!) for me, and every day I am amazed and grateful.
IMAGINE WHAT IT COULD DO FOR YOU?
Join me for a special series of in-depth online Cricut classes that will get you on your feet and running with all of your amazing ideas, from concept to design to finished project, STEP BY STEP!
This is an 
unofficial
 educational program that is not associated Cricut or Provo Craft. Cricut and Cricut Design Space are registered trademarks of Provo Craft. Use of them does not imply any affiliation with or endorsement by them.
PLEASE NOTE: Please allow 24 hours for your welcome letter and course access to arrive via email. If you need access quicker, please enroll here instead.
All of the products in this bookshop are digital downloads only.
Not sure how to download? Below are some common download instructions:
Important: Most mobile devices such as phones and iPads, do not allow for downloading through a link. The exception is for iOS devices running iOS version 11 and higher (so you may want to upgrade before downloading).
ZIP Files: Some of my products are sent using a compressed ZIP file.
Here's how to unzip a ZIP file:
On a desktop or laptop: Save the ZIP file to your computer, right-click and select, "Extract All" (Windows) or double-click (Mac). This will create a new file on your computer in which you can open. If you need to get the files onto your mobile device, add the file to iCloud or Dropbox, or simply email it to yourself. Alternatively, you can check your order email on your mobile device and re-download it from my store. If you have issues with downloading, make sure you have a strong Internet connection and/or try using a different browser.
On a mobile device (phone or tablet): If you have an iPhone or iPad, upgrade to iOS 11 or higher if possible. If you this is not an option, you may need to get a free app to unzip it BEFORE you attempt to download it. This will allow you to unzip the folder to access it. Another solution available on some mobile devices is to long hold the zipped file icon and then click, "Extract." On iOS 11 and higher, you can click "Preview Contents" to view the items inside the ZIP file and then save them individually to your device.
All files are sent using PDF format. Virtually all computers these days have pre-installed Adobe Reader software on them. If your particular desktop, laptop, or mobile device does not have a PDF reader of some sort on it, you'll need one to view the items. Adobe Reader is the most common one and it's free. You can download it here.
Can't find your file? Most downloaded files automatically go to the Downloads folder on both Mac and PC. On the Mac, click on the Finder icon in your dock and click on Downloads to see what you've downloaded recently. On the PC, look under My Computer or search the title of the file on your computer for where it could be hiding.
Note: Some web browsers will load the PDF directly into the browser. You can make a copy of this PDF and save it somewhere that makes sense on your computer by clicking File > Save.
Printing Note: If you attempt to print my PDFs from an iPad, you may encounter an iPad bug that prints the pages without the images. If this happens, you need to print from another location (laptop or desktop computer) or email the PDF to a local office supply store (Staples, OfficeMax, Office Depot) for printing. This is a known iPad bug without a good workaround. I mention it now to save you from wasting ink and paper.
If you need more help, please contact hello@jennifermaker.com